As a design consultancy with a decade of experience in Audio design, we frequently review the market to refresh our knowledge and meet the visionaries driving the market to understand what the new and emerging trends are. Here is a summary of our latest findings in the headphones market.
The headphones market is a fascinating place right now. Consumers are replacing wired headphones with wireless and true wireless headphones, creating the potential for wearers to manifest originality and enjoy high calibre audio experiences in a way that suits their lifestyle and needs.
As with most other sectors of the consumer electronics market, brands are inclined to look towards Artificial Intelligence ("AI"). A real buzzword in tech right now, but AI is also used to make things much, much smarter and solve real consumer needs.
When your personal coach is AI
Say hello to Vi Sense Wireless Headphones by LifeBeam. These headphones boast a voice-controlled artificially intelligent coach that targets to spot your training patterns and uses your live performance data to offer real time coaching advice. Vi's opinion is based on heart rate, heart rate variability, cadence, speed and elevation information, that's all tracked through an aerospace grade heart rate monitor and motion sensors. What this means in practice, is that if Vi detects that you're flagging towards the end of a run and your cadence is dropping, she suggests a metronome cadence drill to help you focus on returning to a better rhythm.
If ten minutes into a hard training run, Vi identifies that your pace or heart rate is off your norm, it will suggest a substitute session.
If you're not sure what a training session should look like, the partner Vi Trainer app, also offers a library of guided sessions containing everything from walks to interval runs. And there are training plans too based on a range of goals.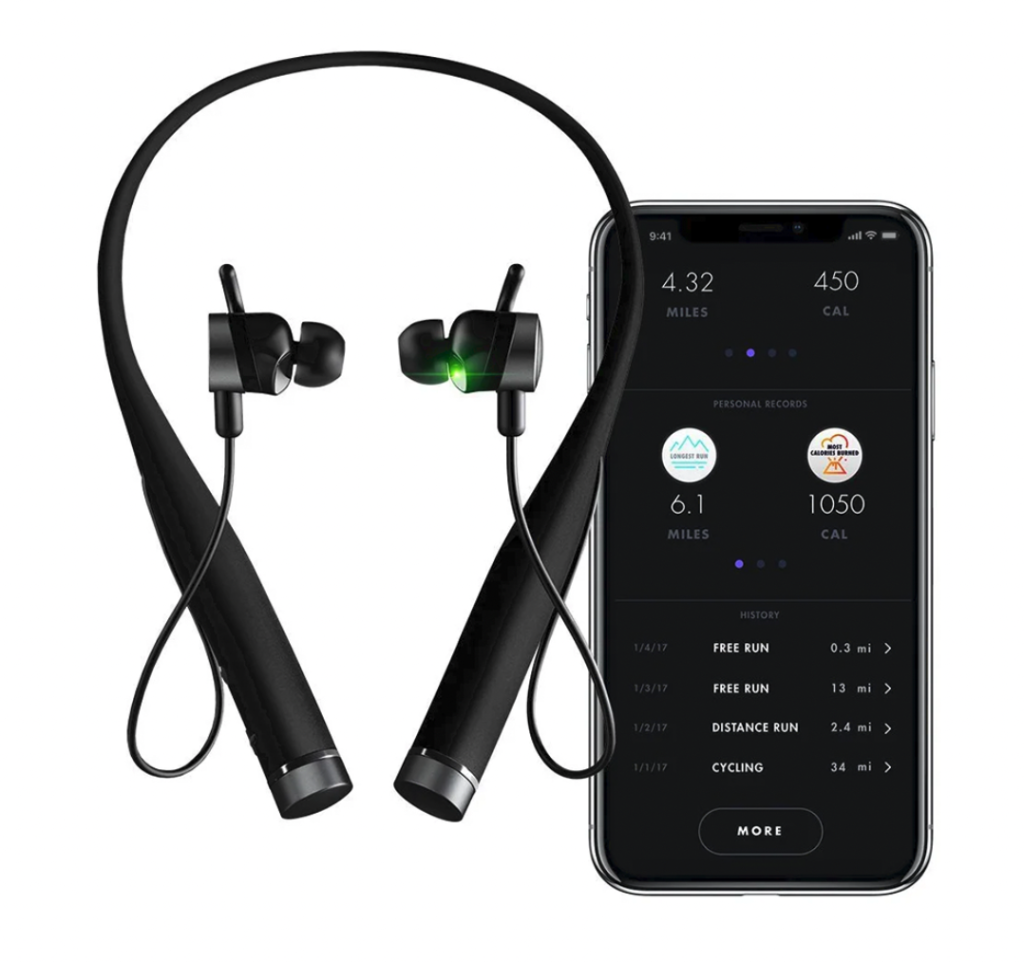 Cancel noise with AI
Danish company Jabra created the AI-powered noise cancelling headphones Elite 85h designed for travellers.
Using technology from the German AI company audEERING, the Elite 85h can spot over 6,000 sound characteristics and filter out the noise more specifically. According to Jabra, that means these cans know when a loud train is coming down the tracks and specifically tunes out the loud train sound.
Normally, active noise cancelling ("ANC") is a feature you enable and disable manually. The Elite 85h by contrast analyzes your surroundings automatically, tuning the ANC to let vocals through when needed.
This SmartSound feature is monitored through the Jabra+ app where you can set public, private, commute, and other various scenarios with their sound profiles.
When you are on a bus, it can recognize that sound signature, and then put the headphones in their "Commute" mode, meaning that ANC kicks in. In a public space, like a sidewalk, the headphones switch into a mode called "In Public," which triggers a feature called "HearThrough" that uses the eight mics to amplify the sidewalk sounds.
Headphones company transitions to AI company
Bragi, a company known for making some of the first Bluetooth headphones, has recently left the headphones market. The German company said it has sold its hardware business to a third-party buyer and that while it will continue to license its IP and AI, it will no longer be making new devices.
Bragi Solutions CEO Nikolaj Hviid said in a statement that the "ultra efficient AI" of the Dash Pro headphones proves that Bragi has successfully transformed into a software licensing business:
"Bragi's technology suite is applied beyond our own products to partners and headphone brands. The Dash Pro featured groundbreaking ultra efficient AI and software that could be updated with new features such as Amazon Alexa, language translation and personalised hearing.
With the sale of our product business, Bragi has completed its transformation into a software, AI and IP licensing company."
Bragi's Dash Pro allows consumers to listen to music while automatically tracking physical activity such as heart rate, speed, time, distance and calories burnt. Products like Dash Pro is already changing the status quo of how consumers enjoy their music while they are running or they are exercising at the gym. By adding the music, hearables are making healthier lifestyle even more fun.
Hear it from the pioneer
Founded in 2012, Hong Kong based tech company Well Being Digital Limited (WBD101) develops heart rate measurement technology that can be applied to earphones and wrist watches. Over the years, WBD101 won numerous international awards including the Best Wearable Mobile Tech Awards at the Mobile World Congress 2016, Special & Gold Awards at the 43rd Geneva Inventions Conventions and 2016 WITSA Global ICT Award.
I asked Kow Ping, founder and director of WBD101 what are his thoughts on the hearables market, and this is what he has to say:
"Today we see less people wearing watches and more people wearing earphones, whether during workout, in the office, on the commute, for relaxation or even for sleep.
Earphones are getting ubiquitous because of the fundamental needs for better listening, the privacy it provides us by shielding away noisy environment or it came bundled with the smartphone.
By recognising that earphones went from just containing speakers with some copper wires, to no wires but full of electronics, we realise the opportunity to embed sensors into earphones that everyone carry with them, and empower people with their personal bio-data to use as they deem fit.
Being generally at lower price points than watches and easier to use, souped up earphones call hearables can plot trends with these bio-data, or track and learn about potential anomalies of these bio-trend through artificial intelligence, and advise users with useful information about their personal health.
One very interesting product utilising bio-data sensing is HeraLeto, a product targeted at working mothers, who, although are the primary healthcare givers at home, may not have time to workout between work and family commitments. These device detects how stress the user is, and is able to learn through AI which songs help her to relax via analysing the inter-Beat interval (RRI) and calculating the heart rate variability (HRV).
As we write, other applications are being developed for hearables that helps users workout better, work more productively, and even sleep better.
Targeting from consumer segments to wellness to medical hearing aids, we can say The Future is Hear."
Charge your headphones with solar power
I also visited the last company on our list a cold January morning this year in a winter dressed Stockholm. The company is still located on campus grounds of the prestigious KTH (Royal Technical University)
One of the common complaints with adding more technology is the sacrifice of battery life, especially on wearable. Headphones that can harness solar power to extend battery life has now been designed by Exeger, a Swedish company that develops and commercializes new materials that enhance the efficiency of solar cells. Exeger prints flexible solar cells for consumer electronics that use ambient light for charging devices such as headphones, and do not rely on rare-earth metals.
Ambient light charging is a technology that empowers energy conversion in both indoor and outdoor lighting conditions, and is not dependent on sunlight. A light-sensitive dye absorbs and then converts light energy into chemical energy that can be used to power or charge devices, eliminating the need to plug it in when there is a light source around.
Exeger's factory on the campus grounds is now the largest solar-cell printing factory in the world – mind blowing! – and uses widely available materials for production of the solar cells, as opposed to other variants that rely on several rare-earth minerals. The production process is also entirely non-toxic. The newly appointed Chief Design Officer Marcus von Euler is the former head of design and co-founder of Zoundindustries with a string of successful brands under his leaderships such as Urbanears and Marshall.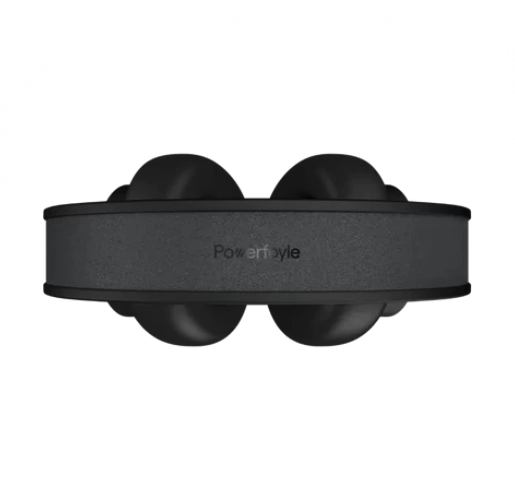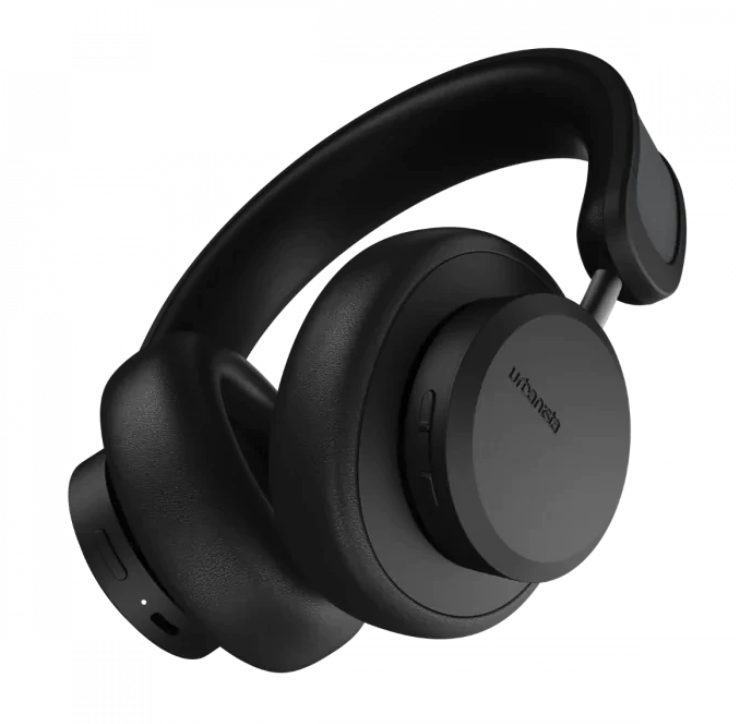 Final Thought
The next time you walk the dog or ride public transit, have a look around you at how many people are wearing headphones. Whether it's over-ear, in-ear, wireless, Bluetooth or ANC, there are more and more styles to choose from. And they're getting smarter.
Tech companies are building new, AI enhanced abilities into the buds
to feed us information in a whole new way. AI is poised to become the
new selling feature of headphones – and a really useful one.