In mid-2018, the Environmental Protection Department (EPD) in Hong Kong, which is a department under the Environment Bureau, chose Cmonde Studies as the successful bidder for a public tender. Our task was to research, design, prototype and test an improved recycling collection system for the entire territory of Hong Kong.
We utilized a Design Thinking Process, which consisted of four phases:
Phase 1: Discover, where we researched and mapped the current recycling system.
Phase 2: Define, where we identified and prioritized the main problems with the current system.
Phase 3: Develop, where we generated and ideated solutions to address the identified problems.
Phase 4: Deliver, where we developed prototypes and tested our solutions.
Phase 5: Public Engagement, communicate, demonstrate and collect comments and insight from public.
By using this process, we were able to gain a deep understanding of the current recycling system and the issues it faced, and then develop a new and improved system that addressed these problems.
Team:
Lead Consultant – Johan M Persson
Lear Researcher – Dr Paul Lo
Project Manager – Elaine Kong
Lead Industrial Designer – Warren Choi
Graphic Design – Ken Li
Our ultimate goal in Phase 1 was to gain a deep understanding of the various use cases and pain points that people experienced with the existing recycling system. By doing this, we were better able to design a new system that addressed these issues and provided a more effective and efficient recycling collection process for the stakeholders.
This process involved starting with mapping and researching the needs of all the stakeholders involved in the recycling system, including residents, waste handlers, and government workers. We also studied the waste journey in 8 different city environments, which included Public Parks, Industrial districts, Rural villages, Public Estates, Gated Villages, Business districts, Special Districts.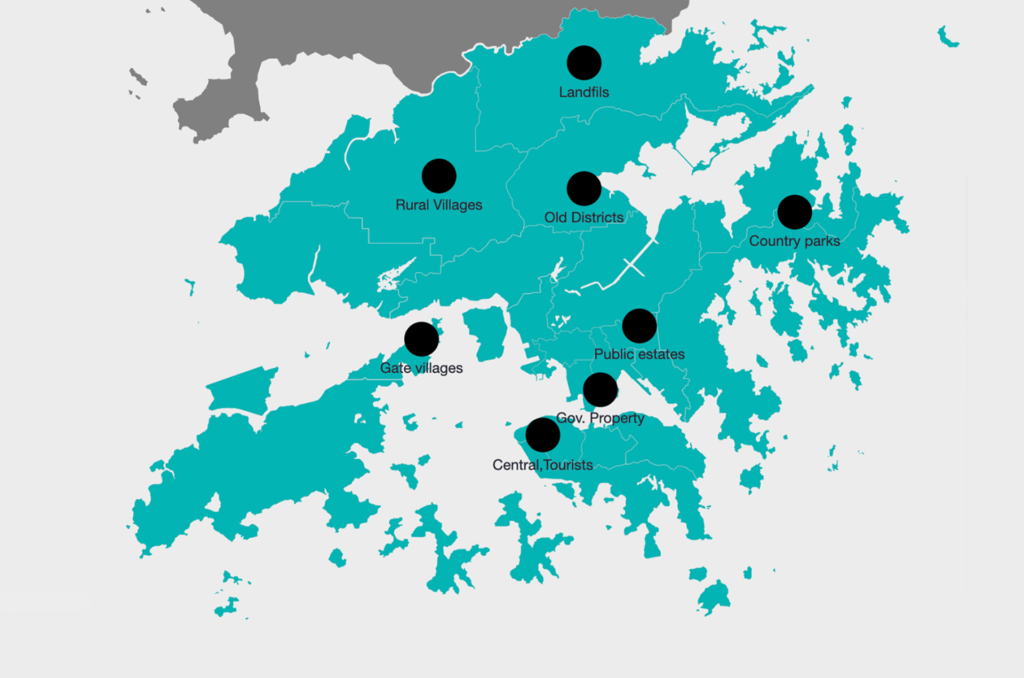 Reviewing collection points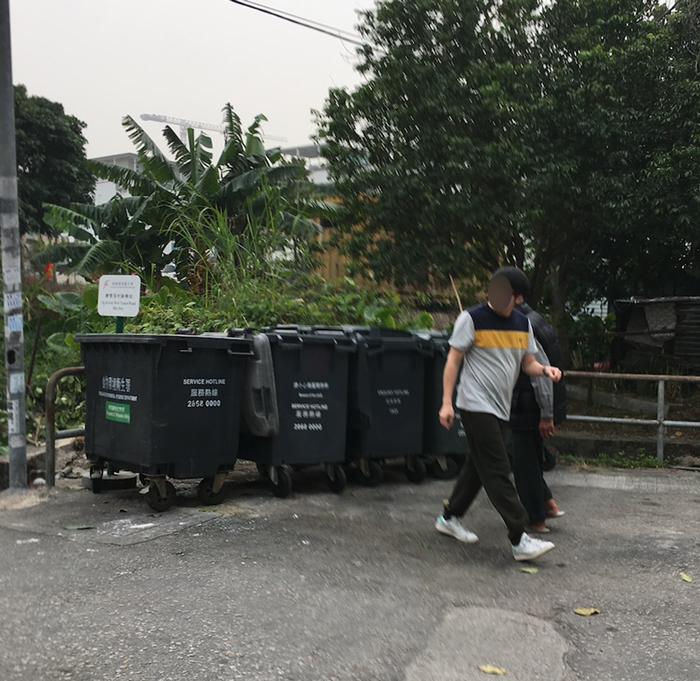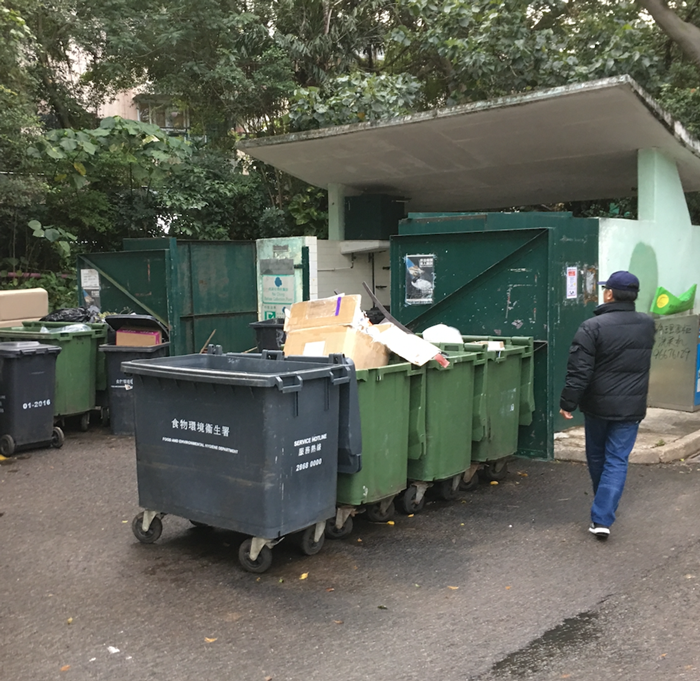 Refuse Collection Point (RCP)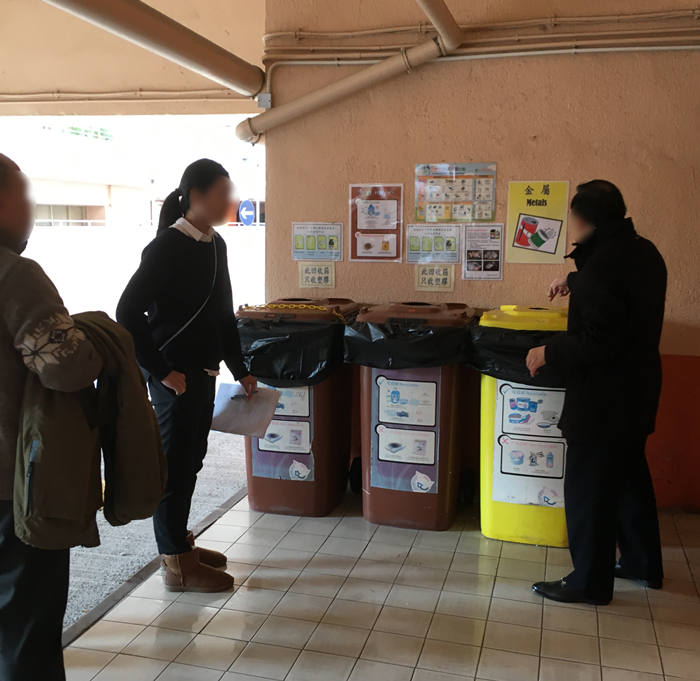 Interviewing Stakeholders
Mapping the municipal waste journey
Phase 2 
Problem definition
Prioritising problems and defining bottlenecks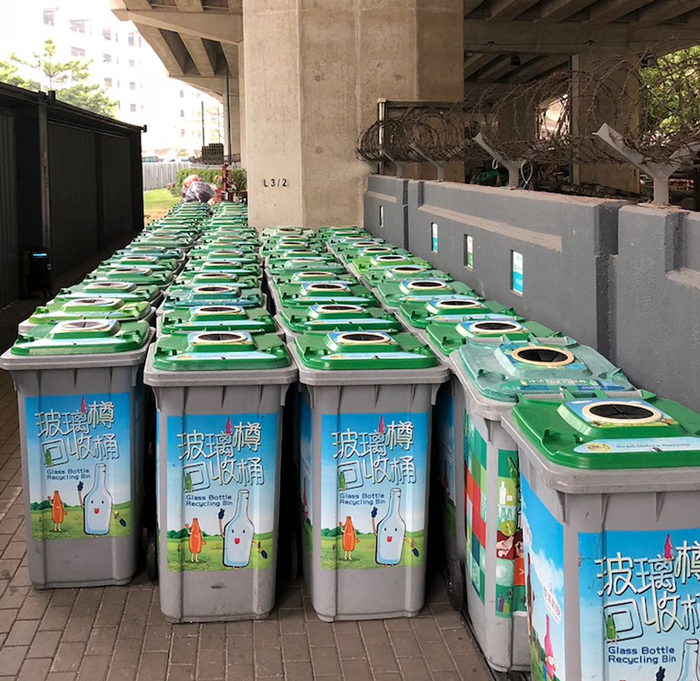 Hong Kong have their local heroes. April Lai, who started NGO Green Glass Green in 2010, and led glass collection sessions in a bid to clean up the city. Recycling glass is known as 'closed-loop recycling' because the glass waste is recycled into new glass products, thus closing the loop of the product life cycle. Glass is processed both by ALBA and Baguio. In 2018, a total of 84,694 tonnes of glass waste was collected for recycling.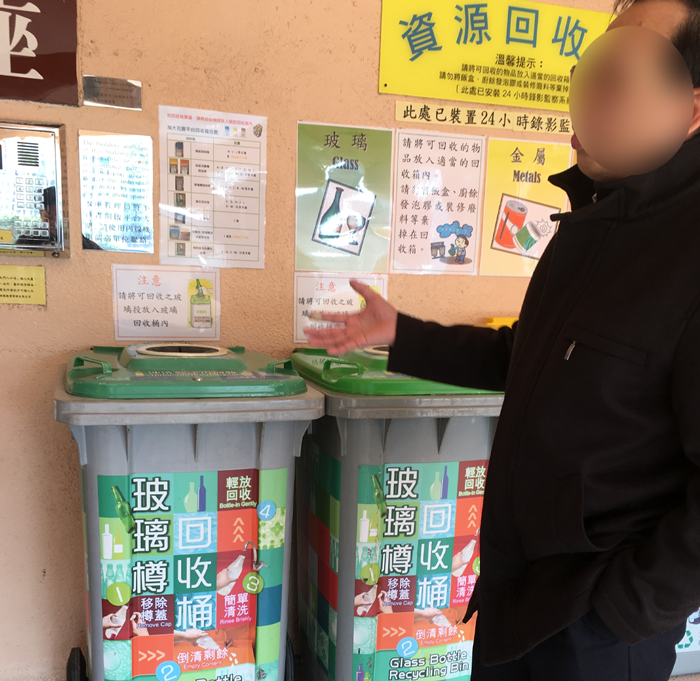 Amoy Gardens, located in Kowloon, is a public estate that is known for its innovative recycling initiatives. They have a system in place where they recycle everything, and they even have their own compost machine that turns household waste into nutrient-rich soil in just a couple of hours. This level of recycling and waste management is impressive and serves as an excellent model for other communities to follow.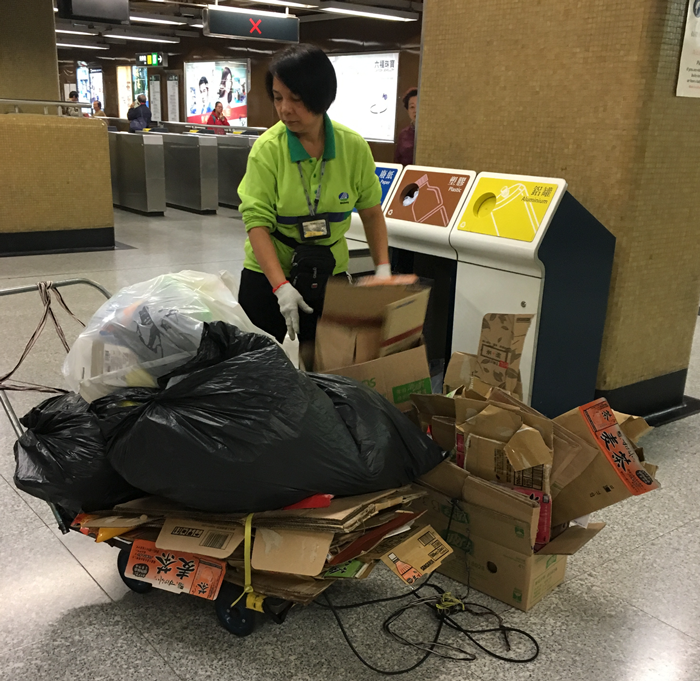 Hong Kong are familiar with seeing people pushing carts or trolleys around the city to collecting cardboard cleaning the city. Their activities help to reduce waste and increase recycling rates in the city, they often face stigma and discrimination, and their work is not officially recognised or regulated. Vcycle is a social enterprise and have a number of initiatives and programs related to cardboard recycling in safe settings.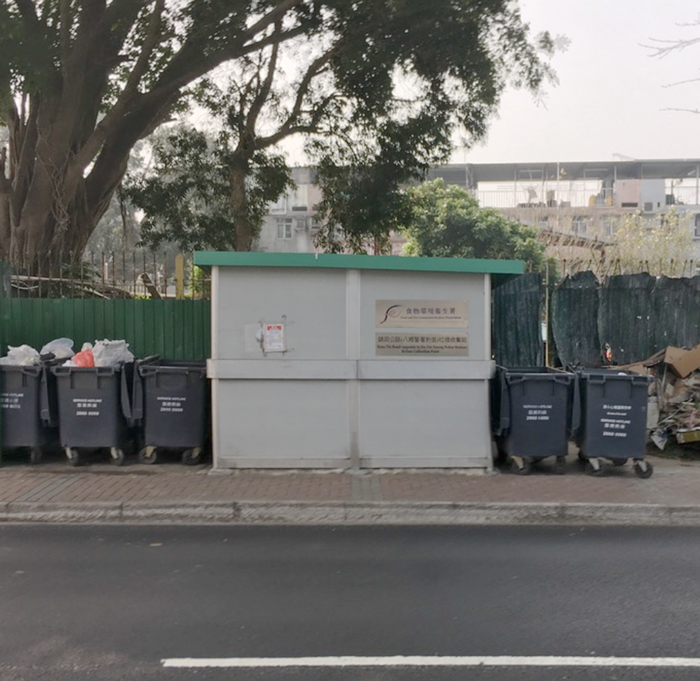 One of the largest pain point is the city's recycling infrastructure was insufficient to meet demand, with a shortage of recycling collection possibilities and limited public awareness about recycling. This needs improvement.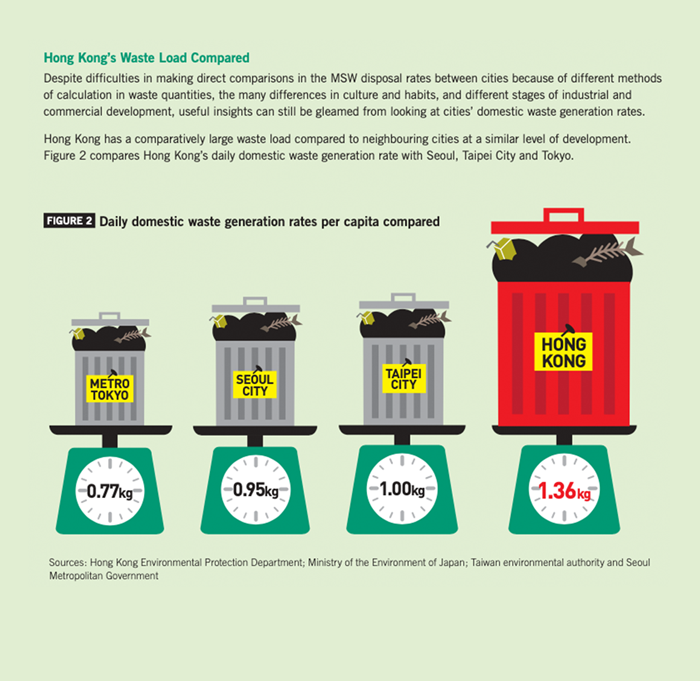 Statistics is not a pretty read – Worst in Asia
NOTE: Reports use different definitions and methods to estimate waste statistics.
To address the pressing need for improved recycling options throughout Hong Kong, a collaborative effort involving a diverse team of experts was crucial. We aimed to engage as many stakeholders as possible, including government officials, academic professionals, village council members, waste handlers, green groups and contractors in the municipal waste stream.
To ensure that our design addressed the varied needs and requirements of different stakeholders, we adopted an inclusive approach that involved conducting workshops and developing prototypes. This allowed us to gather feedback from various parties, including academics, village council members, waste handlers, government officials, and contractors. We found that the most effective method was to let stakeholders test and comment on our prototypes, enabling us to refine and modify solutions based on their input.
Through this iterative process, we gradually converged on an optimal design that met everyone's needs. At each stage, we presented increasingly refined solutions, moving closer to a design that was ready to be tested in the real-world system. Our approach proved effective in addressing the many challenges posed by the project and allowed us to develop a design that was comprehensive and met the diverse needs of the community.
Workshops – getting involved with the community
Adopting International labour laws into the design
Our goal is to bring waste handlers into the design process and empathize with their needs in collecting and transporting waste, as they are an especially vulnerable and often uninsured group in our society. The design should follow recommendations and always aim to minimise repetitive lifting over pelvis height.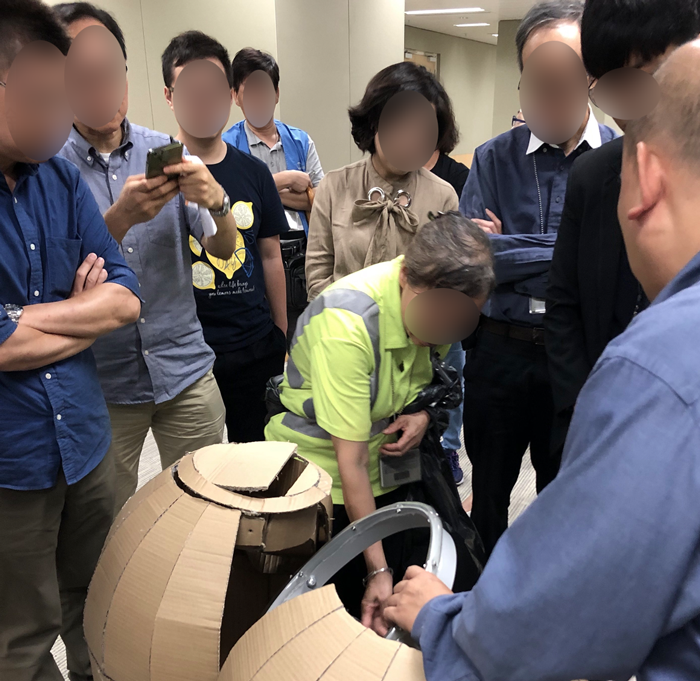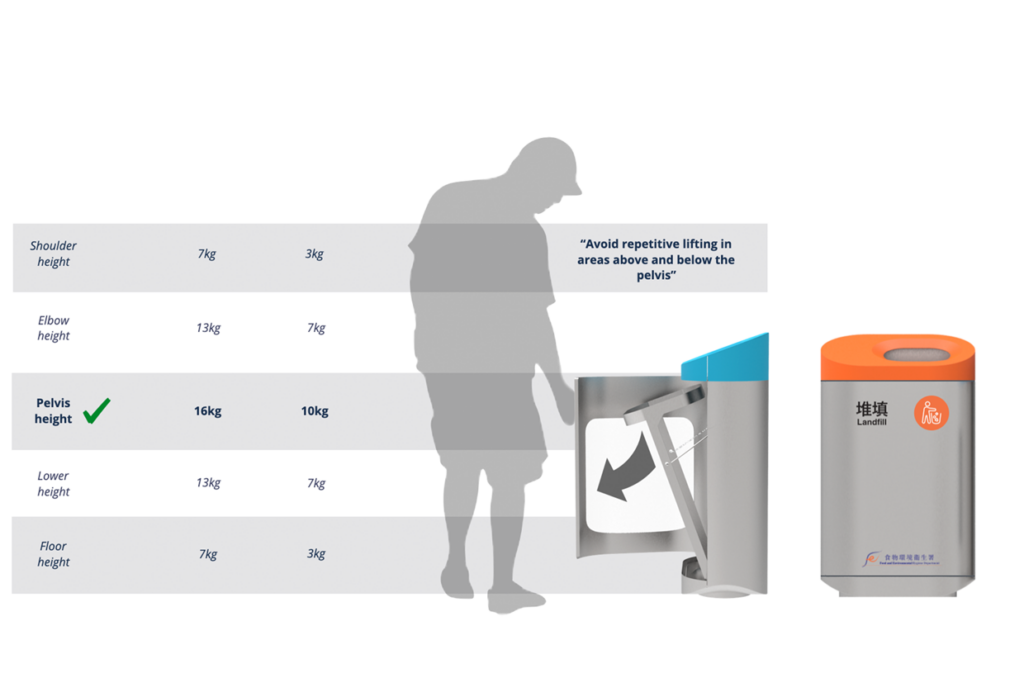 Designing the collection bins posed a significant challenge due to the complex set of requirements and diverse range of use cases. Safety was a key concern, as the bins needed to be designed to avoid pinching fingers and minimize the risk of injury from repetitive lifting. The collection bins also needed to be adaptable to a wide variety of collection scenarios. In some cases, the bins were located far from any road and had to be rolled long distances to the collection point, while in other cases they were located road-side and could be easily lifted onto a truck using an automatic arm mounted on the truck. Overall, the design had to account for these varied use cases and requirements to ensure a safe and efficient collection process.
The collections should be possible by a single worker. The container should be rain proof and pig proof and typhoon proof. meet our labour laws… and so on.  
Build, test and learn process and MVPs 
240L & 660L – 3 Colour Bins
Colours icons and graphics
The use of Chinese font characters in design presents unique challenges and considerations, particularly in Hong Kong where both traditional and simplified Chinese characters are used. Traditional Chinese characters are used in Hong Kong, Macau, and Taiwan, while mainland China and Singapore use simplified Chinese characters. 
One challenge is the limited number of available font sets for traditional Chinese characters, which can make it difficult to find appropriate fonts for specific design needs. Additionally, many modern words and phrases have emerged in recent years that may not be included in traditional Chinese character sets, so designers often need to modify the characters to create new words.
Big thanks goes out to Ken Li from Hong Kong Polytechnic for supporting us in icon creation and font selection. 
Phase 4
Prototype and test
Prototyping played a vital role in our quest to identify the most effective and appropriate solutions. We commenced the process by employing simple cardboard models to examine various factors such as size, volume, proportions, basic functionality, and human factors. As we advanced, we escalated the level of detail and precision of our prototypes to ensure their suitability for pilot testing.
Eventually, we developed fully functional prototypes at full scale for pilot testing purposes. After each round of prototyping, we improved the design by taking into account the feedback and insights we received from stakeholders and testing.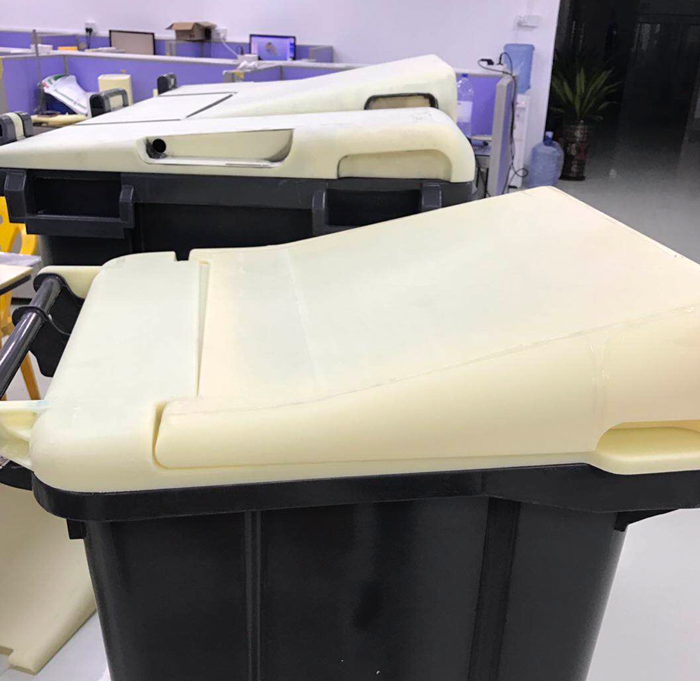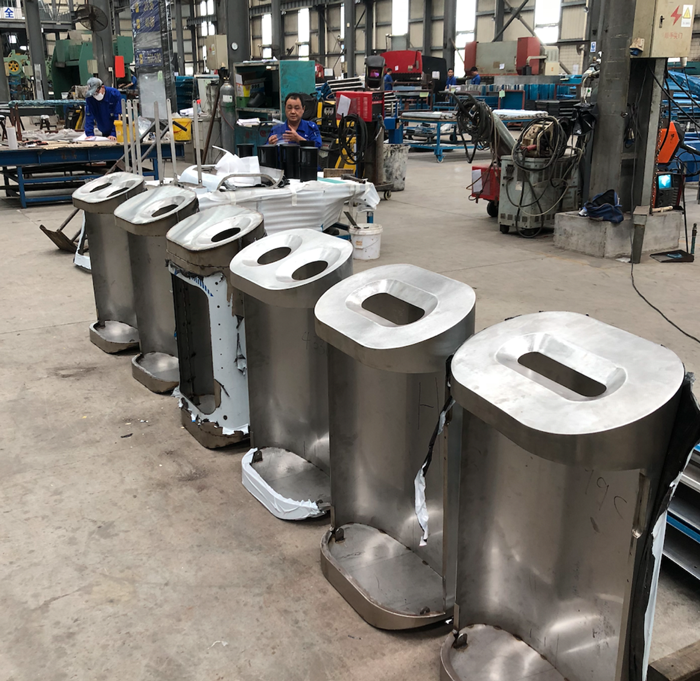 We tested in multiple location and scenarios. Especially important was the test involving interfaces with machines like the compressor trucks.The objective of pilot testing is to evaluate the effectiveness, feasibility, and usability of the new product, service, or process, and to identify any potential issues or problems that need to be addressed before a full-scale launch.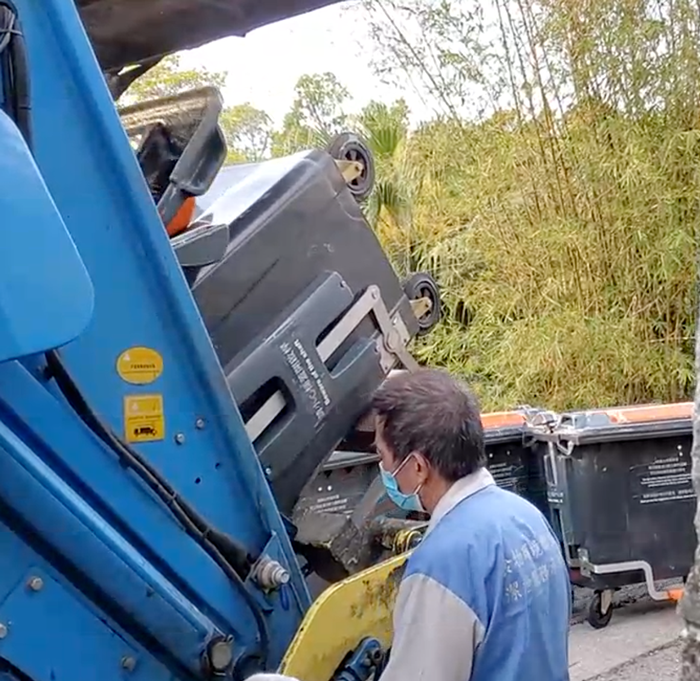 Tests in compression trucks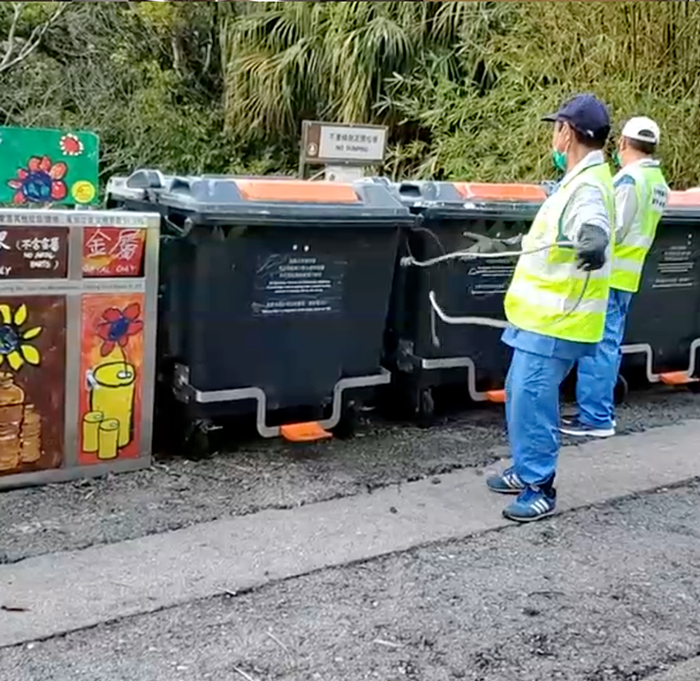 Tethering the bins together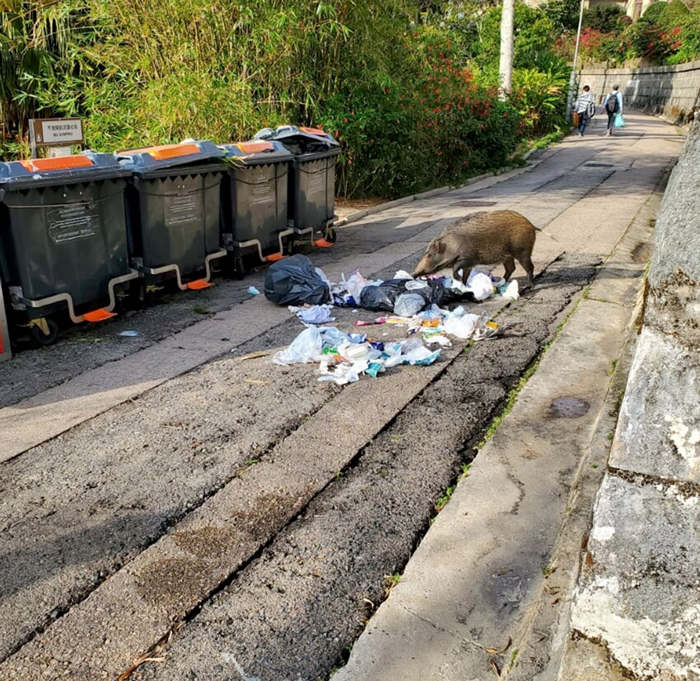 Still problems with the pigs! 
Public engagement involved various activities, such as public consultations, surveys, town hall meetings, focus groups, and social media campaigns. The goal was to gather feedback from a diverse range of people who may be affected by the project or policy, including individuals, community groups, businesses, and organisations.
Hong Kongs Eco Park in Tseun Mun has been active some time now managed by German recycling company ALBA. They process both WEEE (electronic waste) since 2019 and recycle Plastics since 2022. Their facilities are fully automatic and very impressive . 
Despite all this – In 2020 Hong Kong's recycling rate had fallen to its lowest level in a decade, due in part to a lack of convenient recycling facilities and limited public participation in recycling programs.